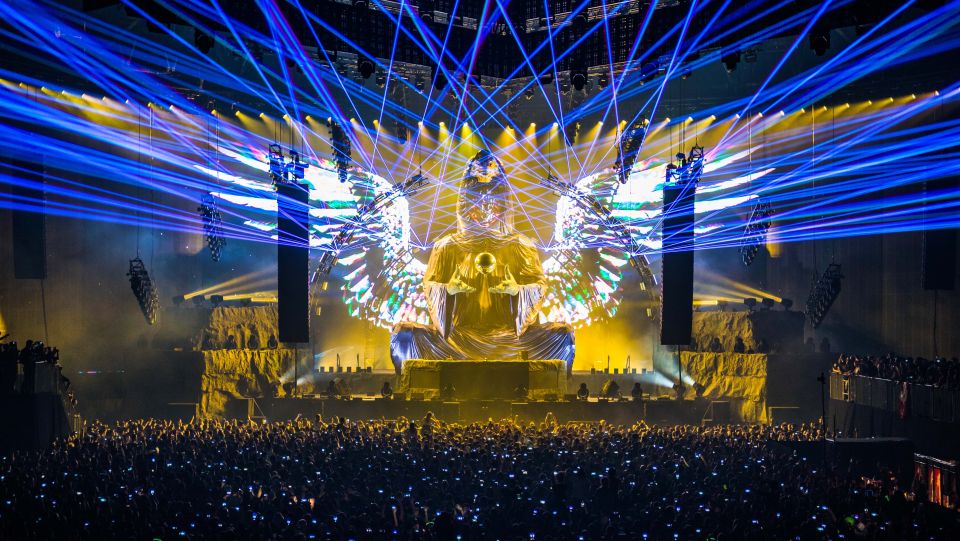 REVERZE - EDGE OF EXISTENCE
23.02.2019
Sportpaleis & Lotto Arena
Schijnpoortweg 119
2170 Antwerp (BE)
www.reverze.be

OPENING HOURS
The doors (Sportpaleis & Lotto Arena) will open at 20:00h. Reverze ends at 07:00h. Regular ticket holders can choose freely between both entrances. The VIP entrance is located on the left side of Lotto Arena ('Lotto Suites').

EXIT = NO RE-ENTRY
DON'T BRING FOOD, DRINKS, WEAPONS OR DRUGS

TICKETS
Reverze is completely sold out. This means that there are no tickets available at the doors. Please beware of scammers and unofficial resellers. No exceptions will be made at the entrance when a ticket is declined.

ENTRANCE REGULAR TICKETS
Visitors with a Regular ticket can use the main entrance of Sportpaleis or the entrance at Lotto Arena. From there you will have access to both areas with your ticket.

ENTRANCE VIP TICKETS
Visitors with a VIP ticket are welcome at the separated VIP entrance. This VIP entrance is located on the left side next to Lotto Arena ('Lotto Suites'), just follow the signs 'VIP'. At the VIP entrance you will receive a VIP bracelet which gives you access to the VIP decks in both areas.

ENTRANCE PARTY BUS TICKETS
We strongly recommend visitors with a (Regular) Party Bus ticket to use the entrance at Lotto Arena.

INCREASED SECURITY MEASURES
There will be increased security measures by the security staff. Please follow all instructions carefully for your own safety and a smooth entrance.

Please bring as little unnecessary stuff or bags as possible, but do dress warmly when weather forecasts predict cold temperatures.

BRING YOUR ID
The minimum age is 16. Don't forget to bring your ID, because your age will be verified at the entrance. No valid ID = no entry and no refund!

INFO POINTS
Any questions? Just go to one of the Info Points located at the main entrance of Sportpaleis. Our crew is pleased to help you.

FREE PUBLIC TRANSPORT 'DE LIJN' ANTWERP
Your valid ticket includes free public transport on Saturday 23 and Sunday 24 February 2019 with 'De Lijn' Antwerp. During the night there will be connections from Sportpaleis to the Park & Ride parkings and the centre of Antwerp. The first tram (number 5), direction Antwerp Central Station, will be available from 05:24h.

Plan your trip in advance by checking this overview or get yourself updated at our Info Points or www.delijn.be.

TRAIN/NMBS
Catch a train to Antwerp Central Station. From there, take tram 3 to Merksem and get off at exit 'Sport'. For more info, please check www.nmbs.be.

Free public transport 'De Lijn' within Antwerp on Saturday 23 and Sunday 24 February 2019 by showing your valid Reverze ticket!

PARKING
For detailed parking information, click here.

LOW EMISSION ZONE
Please note that Sportpaleis is located in a Low Emission Zone. For more info click here.

PARK & RIDE PARKINGS
Here you will find all information concerning the Park & Ride parkings.

PRIVATE BUSES
PARKING
For all buses: please head over to parking 'Slachthuis'. Walking distance to Lotto Arena: 150 meters. Entrance = Lotto Arena. For more details on parking check the briefing sent to all registered private buses. If you haven't announced your private bus yet, please do so before Wednesday, 20 February 2019. Unannounced buses will have to pay a supplementary parking fee upon arrival.

DIRECTIONS & RULES
The following directions are given by Sportpaleis and local authorities: it is forbidden to drop off/pick up visitors in front of the entrance or nearby Sportpaleis.

All buses have to drop off visitors at parking 'Slachthuis' and can wait there during the event. Buses who drop off visitors and leave are also obliged to use parking 'Slachthuis'.

After the event, visitors have to go back to parking 'Slachthuis', where the buses are stationed. Please note that it is strictly forbidden to collect visitors in front of the entrance or nearby Sportpaleis.

TIMETABLE
Behold, judgement day is now upon us. Here is your timetable for next Saturday.

FLOOR PLAN
Rave into Reverze the oldschool way - download and print the official floor plan.

DOWNLOAD APP
Download the official #Reverze app in Woov and create your personal timetable.

LIVESTREAM
Experience 'Edge of Existence' LIVE from Sportpaleis (21:30h-04:45h) at the official Bass Events Facebook page and Bass Events YouTube channel.

ANTHEM
Prepared to unleash supreme creativity, Bass Events proudly presents KELTEK - Edge of Existence, the official Reverze Anthem 2019.

Download/Stream 'KELTEK - Edge of Existence'

REVERZE - EDGE OF EXISTENCE 2CD COMPILATION
Anthem creator KELTEK is responsible for this year's massive must-have: the official 2cd compilation of Reverze. For more information, check out the Bass Events webshop.

SIGNING SESSION WITH KELTEK
Meet KELTEK at 03:00h sharp at the Info Point, located at the main entrance of Sportpaleis.

MERCHANDISE
There are several merchandise shops at Reverze. In addition to the official Reverze merchandise, there will also be other merchandise/gadgets (sweaters, jackets, caps, …) available of Bass Events.

PAYMENTS & ATM
Cash or PIN payments are possible at the token points, both inside Sportpaleis & Lotto Arena. Besides cash, it is possible to buy tokens by using the following cards: Bancontact/Mister Cash - Maestro - Mastercard - Visa.

You also can pay with these cards at the merchandise stands. There are no ATM's available so it's not possible to take out some extra cash. Please note, purchased tokens are not refundable.

LOCKERS
There will be lockers available at both entrances. Share a locker with your friends to save money and space. Renting a locker costs 6 EUR.

This year, all lockers are equipped with a code lock so no deposit is required. Don't lose your personal code to open your locker again!

FOOD = CASH
Please note that your tokens are not valid at the food stands in Sportpaleis & Lotto Arena. The food stands in Sportpaleis & Lotto Arena are not run by Bass Events but by a partner of Sportpaleis. Make sure you bring enough cash in case you become hungry during the night.

REACHING EACH AREA
The passages between Sportpaleis & Lotto Arena are clearly marked with signs. There is a two way passage at the ground floor that passes the outdoor smoking area.

The other one way passages between Sportpaleis & Lotto Arena are at the first floors of both venues. They have a one-way passage system as well. To go from Lotto Arena to Sportpaleis, you'll have to pass through the Hospitality Center which is a huge chill out area with food, drinks and sitting space, just follow the signs 'Lotto Arena' or 'Sportpaleis'.

AMBASSADOR LOUNGE
The Ambassador Lounge is located on the second floor of the Hospitality Center and is easily accessible via a central staircase. Only ambassadors with a valid voucher grant access to this area.

OFFICIAL MEDIA TEAM
There will be an official media team at Reverze. They will capture the whole event through video footage and photographs. This crew will be up and running, so make sure to wear your brightest smile and please make sure you don't block their view.

The official aftermovie will be available in a few weeks after the event. The official pictures will be available on the Facebook page and website, a few days after the event.

Please note: you may have been photographed, but this does not mean that your picture will end up online.

SOCIAL MEDIA
We would love to see your pictures! Post them on Facebook and Instagram, join the event and invite your friends. Use #Reverze in all your updates.

DRUGS
There is an absolute Zero Tolerance policy regarding drugs. This means that all types of soft and hard drugs are not allowed. You will be checked at the entrance. When the security will find drugs, they will hand you over to the police.

FIRST AID
Do not hesitate to ask them for help when it's needed. Follow the signs 'EHBO'.

PICKPOCKETS
Please be aware of pickpockets during Reverze and don't leave your belongings unattended. When you suspect to be a victim of a pickpocket, please head over to our security.

DO NOT BRING THE FOLLOWING ITEMS
The following items are not allowed: vapors, e-liquids, bottles of perfume, aerosol deodorant bottles, selfie sticks, laser pointers, food, drinks, any kind of weapons, drugs, football flags/any signs of racism or hate. Please visit our general rules and conditions for more information.

LOST & FOUND
Bring in stuff you have found, share the love and collect your karma points (location: Info Points, main entrance Sportpaleis). You'll make our and their day!

Please contact the administrative service center of Sportpaleis & Lotto Arena (+32 3 400 60 00, every working day from 09:00h till 18:00h).